Texas Whitetail Deer Hunts
We conduct these whitetail deer hunts on various ranches which totals nearly 25,000 acres of private hunting land located in LaSalle and McMullen counties, in South Texas. We offer a three-day and a five-day whitetail deer hunting trip.
Our whitetail trips include meals, lodging, and 4WD transportation. Hunting is done primarily from tower blinds over feeders. We also use high rack hunting vehicles, and we do some horn rattling during the rut, which is predominantly around the last two weeks of December.
We have an excellent whitetail deer game management program implemented on these ranches and also a year-round feeding program. We shoot only mature whitetail bucks. Along with your buck, you may be able to shoot 1 doe, 2 hogs or Javelina and predators at our discretion. (This is based on pre-season and in-season populations.) We have some very nice bucks on these ranches. You will see a lot of game! We take a very limited number of hunters into each pasture, so call early to reserve your hunting spot.
Trophy whitetail deer hunts are 1-Guide to 1-Hunter.
Wild Hog Hunts & Javelina Hunts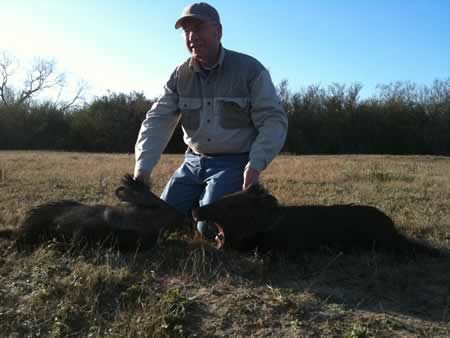 We conduct wild hog hunts and Javelina hunts on several ranches totaling almost 20,000 acres. Our Hog & Javelina hunting Ranches are located in LaSalle and McMullen counties in South Texas.
This is a two-day package hunt which includes meals, lodging, and 4WD transportation. Hunting is done from tower blinds over feeders, driving ranch roads with high racked hunting vehicles, spot and stalk around water holes and tripods around cattle feeders for archers. You may kill predators, two Javelina and all the hogs you want as long as you take the meat home with you. That's right – all the hogs you want! We have way too many hogs.
Exotic Big Game Hunts
We offer exotic game hunts year around. Big game animals available for hunting include Axis, Fallow Deer, Sika Deer, Blackbuck, Antelope, Oryx, Addax, Mouflon Sheep, Red Stag and more.
Since these exotic game species are non-indigenous to Texas, they may be hunted any time throughout the year, going on an exotic game hunt is a great opportunity to hunt the off-season with friends, family, and children taking in the great weather and spectacular scenery of the South Texas Brush Country.
All our exotic hunting trips are 1-Guide to 1-Hunter. Please call to discuss available animals and pricing.
Spring Turkey Hunts
We hunt Spring Turkey (Rio Grande) in April and May. There is an abundance of Turkey along the Frio River, which runs through some of the pastures we hunt. Turkey hunts are run by the day. We include meals, lodging, and 4WD transportation. Hunt over bait or you call. This is a great hunt to do in conjunction with Wild Hog and Javelina!